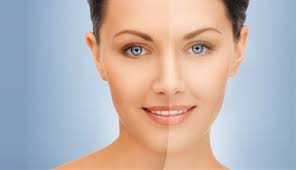 Everyone wants a flawless, beautiful, healthy and lighter skin tone and glowing face, but hardly have time to follow those routines,remedies.
Leave this worry on us. we provide customize treatment for you ranging from normal medicated cream to medicated facials.
We can help you to revise your skin flaws to perfect skin, rejuvenate your skin from environmental dyschromia, pigmentation, sunspot, facial veins and skin tone laxity, tighten the skin, improves sun damage, enlarged pores, texture and corrects pigmentation and acne scarring. We provide one of the most effective, trusted, safe and patient-friendly treatment.
Some of the available treatment are as follows:
laser photorejuvenation treatment
Versa Radiance
Microdermabrasion
Whitening Serum/ Cream
Chemical Peels
Dermabrasion
Click to know more or Book an Appointment